Lynn Mehta is a representational artist whose paintings can be characterized as contemporary impressionistic. Mehta looks for inspiration that makes a universal connection.  She chooses a variety of subject matter and feels her strongest affinity to unspoiled landscapes.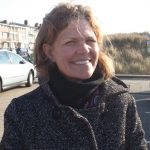 Born and raised in La Jolla, California, Mehta now lives in Alexandria, Virginia. She holds a B.A. in Art from San Diego State University and has studied with internationally acclaimed artists in the US and abroad. Growing up she was influenced by the physical beauty surrounding her and by the art of her mother who painted the Southern California landscape when Mehta was a young child.  Mehta's influences include early Impressionists, especially Vincent Van Gogh, William Wendt, Edgar Payne, Mary Cassatt, and Tom Thompson.  
Mehta participates in up to a dozen plein air or outdoor painting competitions a year throughout the East Coast, as well as in California and Ireland. She has received numerous honors and awards. She exhibits nationally and regionally in multiple exhibitions and galleries. Her paintings are included in private and public collections in the United States and Europe. For a listing of selected awards, juried shows, and plein air events click here.
Artist Statement
When I create my art I feel connected to the reassurance and spirit that I receive from the landscape and the world around me. Throughout my painting experience, I have been exploring how a landscape can become a source of solace.
I find local spaces to paint outside and travel to paint when I get the opportunity. In the studio, I try to re-capture the sense of a place and how I feel about it by using color and applying paint with the inspiration I feel when I am outside.
In my journey as an artist, I have been increasingly aware of how much the world belongs to us, it is what we all share. It is my hope to bring the viewer into my painting to share a small piece of what is our home.
– Lynn Mehta
"I only went out for a walk, and finally concluded to stay out till sundown,  for going out,  I found, was really going in." –John Muir

"Something we were withholding made us weak, until we found out that it was ourselves." – Robert Frost